Plaster Restoration Specialists
Wall & Ceiling Plaster Repair - Twin Cities
United Wall Systems has an impeccable record for delivering stunning results on wall and ceiling plaster repair projects. With over 40-years' experience and a massive collection of client testimonials, your home is in good hands with our professionals.
Call us at any time that works for you and schedule your appointment today for residential stucco, plaster, and drywall repair services from a leader in the Twin Cities Metro.



Plaster Water Damage Repair
Tired of looking at unsightly water damage to your plaster walls or ceiling? At United Wall Systems, we have been repairing plaster for over 40 years with amazing undetectable results and a massive catalog of past client reviews to prove it.

Plaster Hole & Crack Repair
Leaving plaster holes and cracks untreated can weaken your plaster and cause further damage. Don't risk a small project turning into a large one by ignoring the problem. Give us a call to learn how affordable our wall and ceiling plaster repairs can be.

Custom Plaster Restoration
Have a unique plaster repair job and not sure who to turn to? We have been restoring highly complex plaster work in churches, commercial buildings, and homes for decades. Check over out past work, our reviews and our team, then give us a call. Our aim is for a final repair you cant detect.

Plaster Wall & Ceiling Textures
Looking to remove or change the texture of your wall or ceiling plaster? We have solutions for a variety of textures from pop corn ceilings to knockdowns, hand trowel and beyond. Not sure what is best? Give us a call. We are happy to offer professional advice that is best for you, not our profits.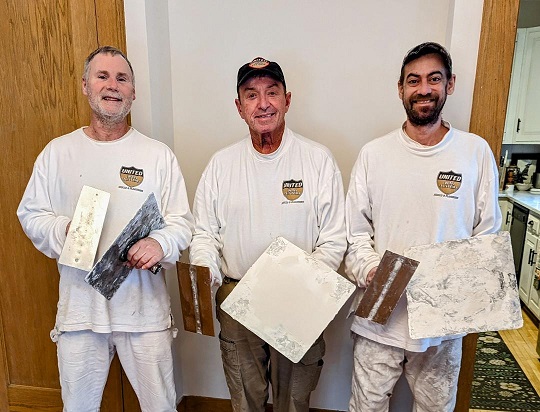 Master Plasterers – Tony, John, Sean
Experience the best on your plaster repairs
With over 40 years in the profession, United Wall Systems are experts at plaster repair on walls and ceilings and can bring to life your vision on a custom project you have in mind. We adhere to the highest quality standard in craftsmanship with stunning results. We are professional, neat, easy to work with and our rates are reasonable.
We offer a complete range of restoration services for plaster walls and ceilings including water damage, cracks, holes or other imperfections which can be repaired by our certified plasters. We can match any existing plaster texture or apply a new one to give your room a fresh look.
Looking for something unique? Custom hand troweled wall textures can add warmth and character to any room. Ornamental plaster such as "coving" can be restored or installed as requested.
Expert Plaster Restoration Specialists

Less Stress
Our goal is not only to repair your plaster but to maintain the least impact to you and your home throughout the project with complete site cleanups for multi day repairs.

Quality Products
With over 40 years under our belt, we know what works and what don't. This is also true when it comes to products. Unlike many of our competitors, we utilize quality products and techniques when repairing your greatest asset.

punctual
Nothing is worse than contractors who miss the appointment or show up late. We know your time is valuable and make our appointments on time and complete our projects in the same manner.
Twin Cities Plaster Restoration Experts
Hand Troweled & Ornamental Plaster
Looking for something unique? Custom hand troweled wall textures can add warmth and character to any room. Ornamental plaster such as "coving" can be restored or installed as requested.
We can remove your popcorn ceiling texture and replace it with our specialty "hand trowel" texture. It has a smoother look than a "knockdown" and is not as busy. In most cases, it is more reasonable in cost than a "knockdown" and has a warmer, more custom, finished look.
A few past plaster projects...
| Dependable & Highly Reviewed
We Strive for 100% Satisfaction

A+ Better Business Bureau



O
u
r
P
a
s
t
P
l
a
s
t
e
r
P
r
o
j
e
c
t
s
O
u
r
P
a
s
t
P
l
a
s
t
e
r
P
r
o
j
e
c
t
s
FREQUENTLY ASKED QUESTIONS:
Don't hesitate to ask a question to get all the necessary information!

To John and his crew of outstanding craftsman. You're truly the best in the business! Thank you for making time in your busy schedule for my project. I'm so grateful to all of you for your part in restoring my home. It looks fantastic!

John & Jeff, Thanks so much for the hard work. You guys did a great job and we appreciate it. You were 1 of 2 contractors that were easy to deal with. The rest was a nightmare! Thanks again.

I LOVE IT! The stucco work for our chimney was even better than I imagined it would be. The finish put on there was very elegant, and the stucco color perfectly matches our home. As always, you are professional and everyone working for you is professional as well. Thank you so much!
Have a project and not sure what it's going to cost?
Contact us for a hassle-free quote:
Proudly Servicing The Following Minnesota Cities:
Apple Valley, Arden Hills, Belle Plain, Bloomington, Burnsville, Brooklyn Center, Brooklyn Park, Cannon Falls, Chanhassen, Columbia Heights, Cottage Grove, Crystal, Deephaven, Dundas, Eagan, Eden Prairie, Edina, Excelsior, Elko, Faribault, Farmington, Falcon Heights, Fridley, Golden Valley, Hastings, Hopkins, Inver Grove Heights, Jordan, Lakeville, Lauderdale, Little Canada, Long Lake, Lonsdale, Maplewood, Maple Grove, Mendota Heights, Minneapolis, Minnetonka, Mound, Mounds View, New Hope, New Prague, New Brighton, New Market, Northfield, North St. Paul, Oakdale, Prior Lake, Richfield, Rosemount, Roseville, Savage, Shakopee, Shorewood, St. Paul, South St. Paul, St. Paul Park, Victoria, Waconia, Wayzata, White Bear Lake, Woodbury