Professional Stucco, Plaster, Drywall Repair Services
Serving The Greater Twin Cities Metro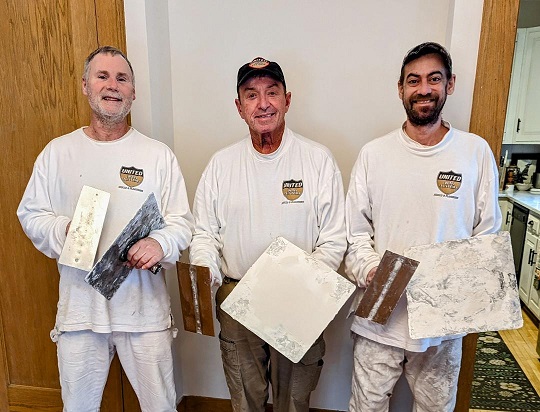 Master Plasterers – Tony,  John, Sean
A leader in restoration services
With over 40 years of impeccable craftsmanship, United Wall Systems strives to deliver amazing results on every project no matter the size. We utilize the latest in quality products and restoration techniques to give you a finished project that is sure to WOW.

STUCCO REPAIR
United Wall Systems prides itself on the expert quality of its work and the high level of customer satisfaction it has achieved. With over 40 years of experience we know how to get the job done right the first time. We specialize in new stucco applications and restoration of existing stucco. (re-dashing) We are repair specialist. Highly skilled certified plasterers that are professional, reliable, local craftsman.

PLASTER REPAIR
We are experts at plaster repair on walls and ceilings. Water damage, cracks or other imperfections can be repaired by our certified plasterers. We can match any existing texture or apply a new one. Popcorn ceilings can be replaced with a more up to date texture. We are professional, neat, easy to work with and our rates are reasonable. We offer free onsite consultations. Multiple references are available from a long list of satisfied customers.

DRYWALL REPAIR
Have original drywall that is showing signs of water damage or cracking? Let our highly experienced team show you how fast and affordable getting your wall or ceiling drywall repaired can be. With over four decades of experience, we have the skills to color-match, texture-match and repair drywall on any surface from simple to complex archways with the least amount of impact to you and your home during the project.

STONE VENEER
We offer a wide range of cultured and real stone veneer applications. With a large selection of colors & styles of stone available any look can be achieved. The beauty of stone makes it a very attractive option for exterior applications and interior fireplaces, either new or renewal of an existing fireplaces. We have the experience, skill and high level of craftsmanship to produce great looking stone applications.
Expert Restoration Specialists

Less Stress
During the entire project we do our best to avoid impacting your life by keeping our project area neat and perform a cleanup at the end of every day.

Quality Products
We don't skimp on the products we use for your project. After 40+ years on stucco restorations, we have come to know the right products to select for the project at hand to ensure a final result that lasts for years to come.

punctual
Unlike many of our competitors, we pride ourselves in arriving at your home on-time and completing your entire project in the time we originally quoted.
| Dependable & Highly Reviewed
We Strive for 100% Satisfaction

A+ Better Business Bureau




To John and his crew of outstanding craftsman. You're truly the best in the business! Thank you for making time in your busy schedule for my project. I'm so grateful to all of you for your part in restoring my home. It looks fantastic!

John & Jeff, Thanks so much for the hard work. You guys did a great job and we appreciate it. You were 1 of 2 contractors that were easy to deal with. The rest was a nightmare! Thanks again.

I LOVE IT! The stucco work for our chimney was even better than I imagined it would be. The finish put on there was very elegant, and the stucco color perfectly matches our home. As always, you are professional and everyone working for you is professional as well. Thank you so much!
Have a project and not sure what it's going to cost?
Contact us for a hassle free quote: